What's that, you say? The splendid Dark Outside label is releasing BLACK ARROW and ETHER/ORBIT together on a special dual colour cassette?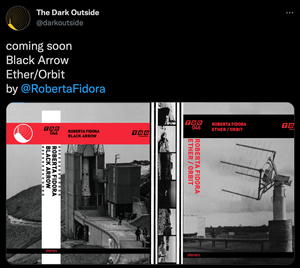 That's right! Tapes will be limited to 100 copies, so make sure you set your alarm for launch and bookmark on Bandcamp ready for blast off tomorrow, Friday 14th January, at 6pm (Greenwich/Galloway Mean Time). You can also get an additional nudge via the mailing list, which is a good idea, as they often sell out quickly.

I've been sending demos and oddities to The Dark Outside broadcasts for a number of years now and I always look forward to listening and taking part, so this is a really wonderful way to commemorate that. A little bird (possibly near a transmitter) told me that The Dark Outside celebrates its 10th birthday this year as well, so if you're partial to generating or absorbing noise, field recordings and music of a dreamlike nature, then keep a look out for a possible broadcast later in the year.

Speaking of commemorating things, BLACK ARROW made an appearance on this list of Stewart Lee's Cultural Year, commemorating a year of things listened to on a music-specific physical device. Good stuff. Keeping the turntable warm.

Well, back to it. These synth won't play themselves! Or will they? MIDI is a magical thing.

P. S. The thumbnail image of Angela Lansbury holding a cassette was found via the very enjoyable Museum Of Portable Sound page.