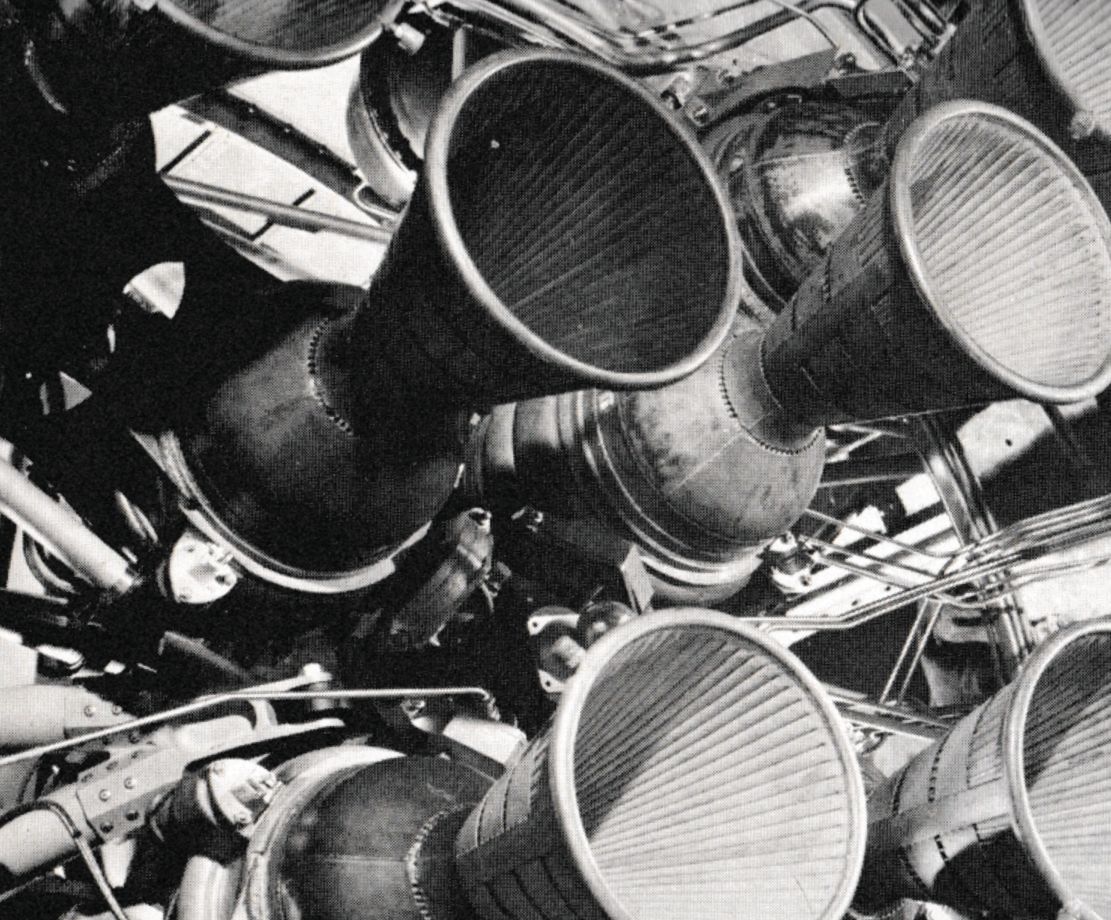 Last year (or what feels like another 50 years ago), we celebrated the moon landing anniversary, an event that has inspired countless retellings and re-imaginings through television, film, design and song. A historic occasion that gave people the opportunity to imagine little pieces of the universe for themselves, to ponder what else might exist beyond our planet and where we imagined belonging to another, better future than the one we have now. 
So imagine my surprise when, in 2018, I stumbled across a rocket casing shell at a tourist attraction on the Isle of Wight, just across the island from where I live.
Even moreso when this discovery then led to a hangar just outside of the large village of Lake (with Wikipedia page highlights that include two funeral parlours and a branch of KFC) that just happens to house a replica of a BLACK ARROW rocket being built by enthusiastic volunteers and retired engineers from a local Men in Sheds project. This is the place of sand bottles, wax nightmares, coastal erosion and Donald McGill postcards, apparently, and yet, it has a rich space history that hardly anyone knows about. It turns out that I no longer have to imagine my own piece of space; it's on my doorstep (or rather, a short number 3 bus ride away). 
In the aforementioned retellings of our space history too, what I've mostly noticed, are the archival voices of American astronauts, the distinct "Mid-Atlantic English" of bygone announcers or men in white coats and many top down accounts of history that I'm already familiar with. It's unusual to hear the voice of someone who, say, worked on the project as a seventeen year old rocket engineer and her contribution to an important space project like BLACK ARROW, but that's exactly what I want to hear, given that at the same age, I wasn't doing much outside of my embarrassing Robert Smith cosplay, let alone achieving something extraordinary like getting a satellite into orbit. I wish I'd seen more encouraging stories like this and known about the south coast's proximity to the cosmos much earlier.
Which brings me to BLACK ARROW as an EP. Whatever is going on in the world, it's important to document your culture and to find interesting stories which might not get told outside of mainstream channels and amplify them in whatever way you can*. I interviewed Marlene Irving in the second half of last year where we talked about her experiences working on the project and the legacy of BLACK ARROW, which is personally one of the most exciting things I've ever been able to do. The development and launch of BLACK ARROW, from an small island at the bottom of the UK, to the other side of the world in Woomera, Australia, is an achievement that I think deserves to be recognised all these years later and I feel fortunate to have a part in continuing the story and documenting an incredibly unique perspective on it.
I hope even in the midst of chaos, you'll listen in and celebrate one of many unsung voices of our space and engineering history.
Blasting off for now.
*Emma Warren's 'Make Some Space' is a great read on this subject. I highly recommend it!