Maybe it should be renamed Dark Krampus instead of Dark Compass given the time of year, but it's always nice to see songs getting a play on the radio, in this case, the song is In Your Neighbourhood. 

On that vague song theme, this year's festive Neighbourbood card has now been posted and there is a new collection of things over there which provides a backdrop to my previous seasonal efforts (and a whole lot of hoarding). Last year's festive episode of your favourite puppet adventures is also available to watch too, pending the next instalment.

Speaking of festive and puppets, I knew buying this tiny deckchair would be a great investment. Merry Christmas. 🐻🎄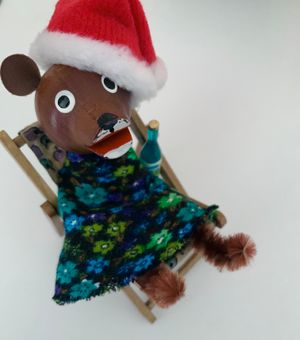 P. S. As always, suitably wintery versions of Have Yourself a Merry Little Christmas and I Believe in Father Christmas are available to download for free by clicking on the song titles or over on Bandcamp. Thanks to Rob at Synth City for playing the Greg Lake cover.